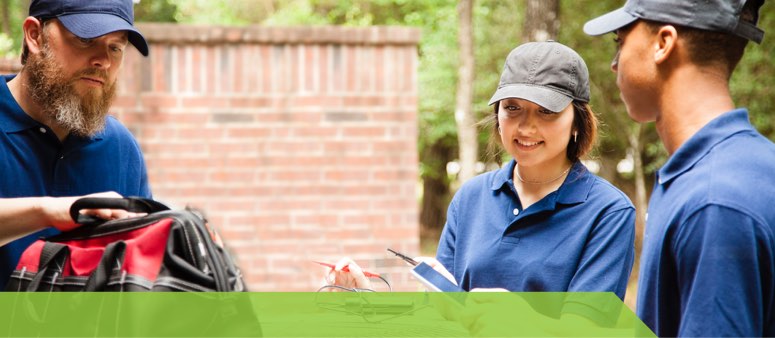 Training the technicians of tomorrow, today.
NexTech Academy is a comprehensive, online technical training program for HVAC, electrical and plumbing technicians offered by Nexstar Network.
Closing the trade skills gap with flexible, online training.
We know it's becoming increasingly difficult to find qualified technicians in today's marketplace. That's why we developed NexTech Academy, an online, self-paced training program designed to help Nexstar members to develop the workforce they need.
An industry game-changer, NexTech Academy reinvents the traditional educational model with a digital learning environment that offers flexible, engaging training, tailored to specific skill sets. Our curriculum integrates Nexstar best practices with step-by-step technical training to help an employee with little trade experience become a confident and competent technician.
We offer HVAC, plumbing and electrical training. In each trade, basic theory and concepts are taught through a variety of reading assignments and interactive exercises. Hands-on skills assessments and interactive exercises overseen by a trainer help students gain technical skills specific to their trade.
As an affiliation of independent service contractors, we exist to help our members excel in their business endeavors by sharing best practices and expertise. Our goal, as a group, is to leverage the knowledge and experience of the entire membership to "raise the bar" — and become recognized within our individual communities for delivering outstanding professional service.
Nexstar® provides valuable marketing and sales tools to members, and continues research and investment to develop new educational programs like the Nexstar® Service System.
We take pride in having the most comprehensive resource materials, training programs and services in the industry. Our members benefit from best practices and training that reflects our founding motto: Success Through Education and Sharing.
Your individual success is our purpose as well as our promise. This makes it win-win-win — for your business, your customers and your membership in Nexstar.
Benefit from our strategic industry partnerships.
NexTech Academy partners with organizations such as trade associations to ensure our curriculum is keeping up with industry best practices. Our program follows both the International Code Council (ICC) and International Association of Plumbing and Mechanical Officials (IAPMO) model codes.
While we do not teach code directly, we do recommend that students be aware of their state and local codes and requirements, which may differ. Becoming a member of local trade associations is one way to keep up with the latest information on codes and requirements in your area.
For Business Owners
Enrollment is open to members of Nexstar Network. Learn about membership benefits and how to join today.
For Students
We'll email you when direct enrollment for students is open. Sign up for program updates.