Business Experience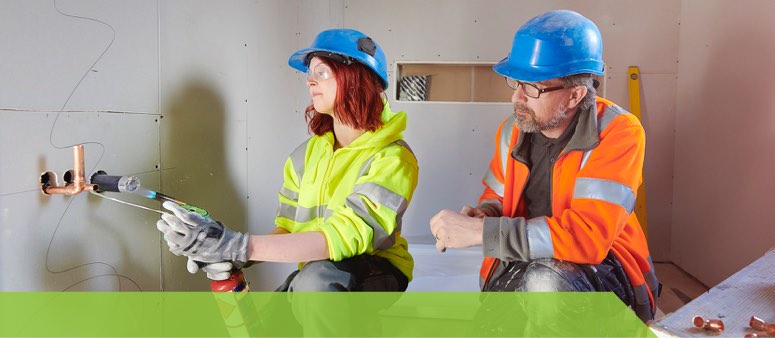 Let us help you build a better workforce.
We understand the frustration that comes with trying to not only recruit, but train new employees from the ground up. Developing your own technical training program can be time-consuming and costly. NexTech Academy makes it easy to implement industry-leading technical training in your business without the headache or expense.
NexTech Academy provides the structure and the curriculum, all you need to provide is a local training leader to help guide employees through the program; access to a computer, internet connection, a valid email address – and a quiet place to work. For the hands-on portion of their training, you will need to provide access to tools and equipment to complete the skill assessments.
Support when you need it, from coaches who get it.
NexTech Academy coaches work with local training leaders (a designated manager or senior technician within your company who works with new apprentices) to successfully implement the training program in their businesses. Our coaches are experienced professionals who have worked in the industry and understand the challenges you face when recruiting and training new technicians. They will work with you to help facilitate enrollment and navigation of the program and can help with teaching strategies for skills assessments. When you need support, NexTech Academy coaches are here to help.
Easily monitor employee progress and performance.
Because this is a self-paced program, monitoring the progress of employees is important to ensure they are understanding the curriculum and getting the support they need. The NexTech Academy online learning management system makes tracking employee progress quick and easy. Local training leaders can log on and view employee progress at-a-glance. Each module is set up so employees are unable to progress until they pass the quizzes and their training mentor has signed off on skills assessments.
What business leaders are saying.
We have just started, but so far the NexTech Academy program has been exceptional. The website is very user-friendly and easy to navigate. The support staff has been with us every step of the way with weekly calls and a willingness to walk us through each process over the phone. The one technician we have enrolled in the program reports that he really enjoys the experience. NexTech Academy combines a mixture of media formats to keep technicians engaged and challenged. As a training mentor, I have found that the program allows me to track the progress of my participants at a glance, and offers insight into how best to help them learn their trade. I am excited to see how the curriculum advances the skills of my technicians and improves the quality of our business.
Scott Thelen
Service Manager, Pippin Brothers, Inc.
As a manager wearing multiple hats – service manager/sales manager for the HVAC department – I was having a lot of trouble putting together a proper onboarding program in terms of technical training. We have been growing at 10-15 percent each year for the last four years and the one thing that is holding even more growth back is not just finding good people, but training them. I have two technicians going through the course at the moment and I couldn't be more excited. The program is so detailed and organized. It allows me to check up on them to see their progress and I have weekly meetings with them to hold them accountable. Having a Nexstar coach is very helpful as well because it keeps me focused in between all other duties my job requires. As an admin, I can take the course simultaneously with my technicians, which helps me help them if they have questions throughout the process.
Kyle Fleck
Service/Sales Manager, Essig Plumbing & Heating
Attract quality people excited to learn a new trade.
Nexstar Network provides a number of resources to help you attract quality people who are ready to pursue a career in the plumbing, heating, air conditioning, and electrical industries (PHCE.) Our exclusive job board, Nexstar Network Jobs, is available to Nexstar Network members to help recruit top talent for technician positions in the trades.
Explore the Trades
Nexstar Network also provides comprehensive career information and scholarships for people pursuing the field of PHCE through Explorethetrades.org. Explore the Trades actively drives young adults, ages 15-25, into the PHCE service industry through education of employees, businesses, and schools. This program uses statistics, advocacy, and outreach to potential employees to build awareness about these careers.
Troops to Trades
Troops to Trades is committed to attracting talented veterans, National Guard and Reserve members to the skilled trades. Since its creation, Troops to Trades helps with career placement in the plumbing, HVAC and electrical industries.
Ready to build a better workforce?